LG CNS reduces simple repetitive tasks
and improves work efficiency with RPA.
Robotic Process Automation (RPA) is a solution where robots replace humans for simple and repetitive computer tasks. LG CNS supports an environment where robots can work stably and continuously. We support establishing RPA security policy and monitoring plan. LG CNS supports an environment where robots can work stably and continuously, such as RPA security policy and monitoring plan establishment.
Which jobs are suitable for RPA application?
LG CNS provides business consulting and technical support in all areas,
from RPA service planning to development, operation, and monitoring.

It supports systematic RPA implementation for planning/developing/operating/monitoring.
Systematic development based on standard methodology

Excellent RPA experts
Rich in experience and methodology
→ Experience in development and operation of LG affiliated companies' RPA projects and external large-scale projects, RPA development methodology
– Experienced in governance consulting
→ Establishment of RPA implementation strategy, establishment of organization and R&R, security/account policy, KPI and monitoring plan, etc.
*R&R: role and responsibility
*KPI: Key Performance Indicator

RPA implementation center

RPA training support
→ Training of RPA developers through on/offline training system
Provision of RPA standard deliverables
→ Standard deliverables for each stage in task discovery, analysis/design, development, and operation

RPA platform

Convenient bot scheduler
Monitoring bot performance from the user's perspective
Provide bot performance results and relevant statistics
Service operation support through KakaoTalk message
It applies the global top RPA solution and also provides a public cloud-based monitoring platform.
Uipath, the global top RPA solution, has been selected as a standard and it is applied for affiliates and customers.

User convenience has been improved by developing our own AWS-based robot monitoring platform.

Various functions that have been previously difficult to use in standard solutions, such as monitoring of robot performance, authentication management for each task, management of shared library, robot implementation through chatbot, and notification of robot performance results using KakaoTalk message, can be easily utilized.
LG CNS is innovating technology with data-based intelligent RPA.
While the current RPA level is the automation of standardized, simple, and repetitive tasks,
technologies including chatbots and image recognition should be applied to meet the needs for automation of unstructured data such as images and natural language in the future. LG CNS is already able to communicate with robots through chatbots on the platform, and provide deep learning OCR technology verification and services.
LG CNS is implementing intelligent RPA by incorporating new digital technologies for each stage of business automation development and expanding the scope of applicable work.
*OCR: optical character recognition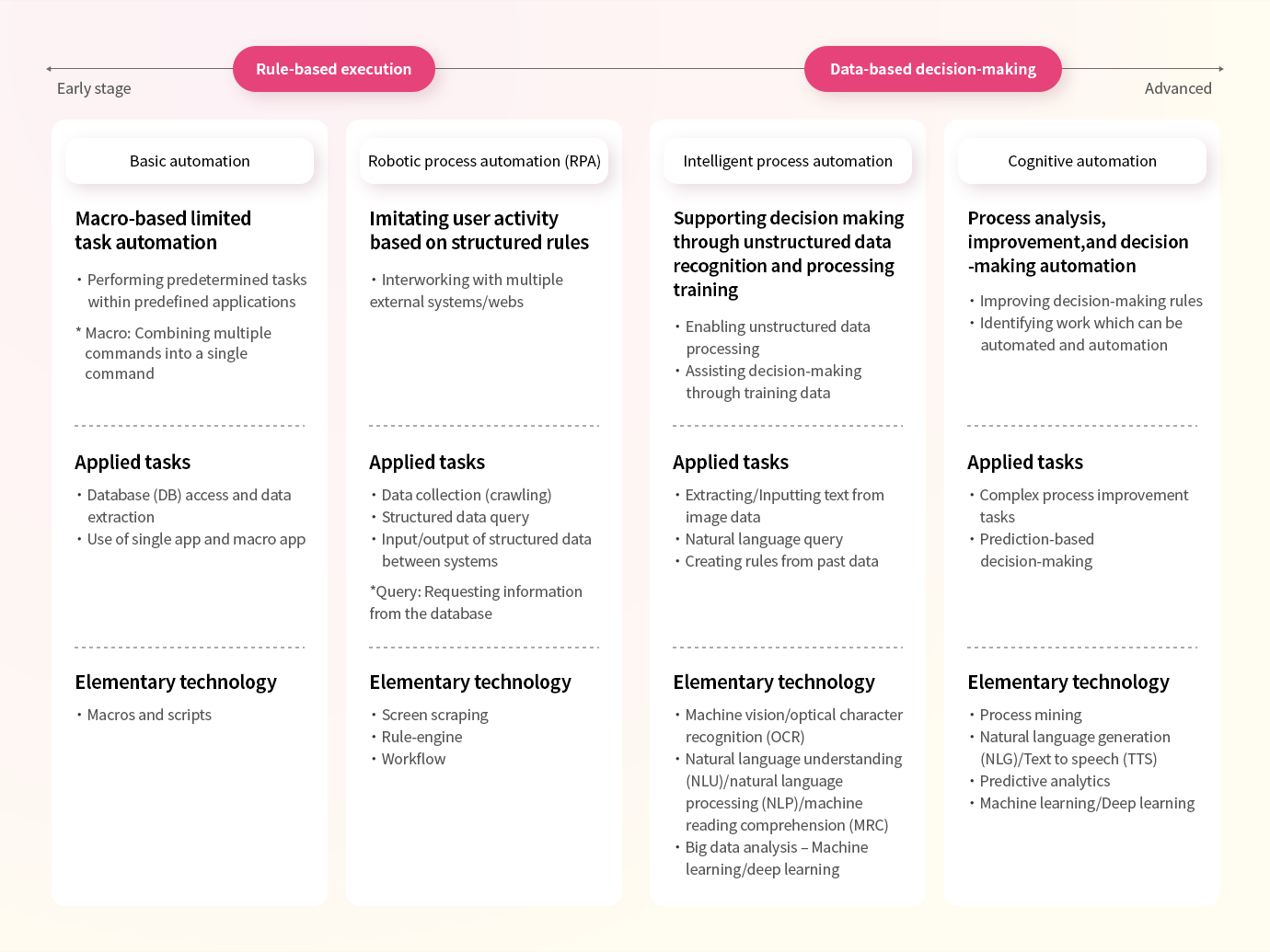 Contact the DX expert
of LG CNS directly.
Contact us