We provide the optimal AI/Big data service
suitable for the customers' business and IT environment.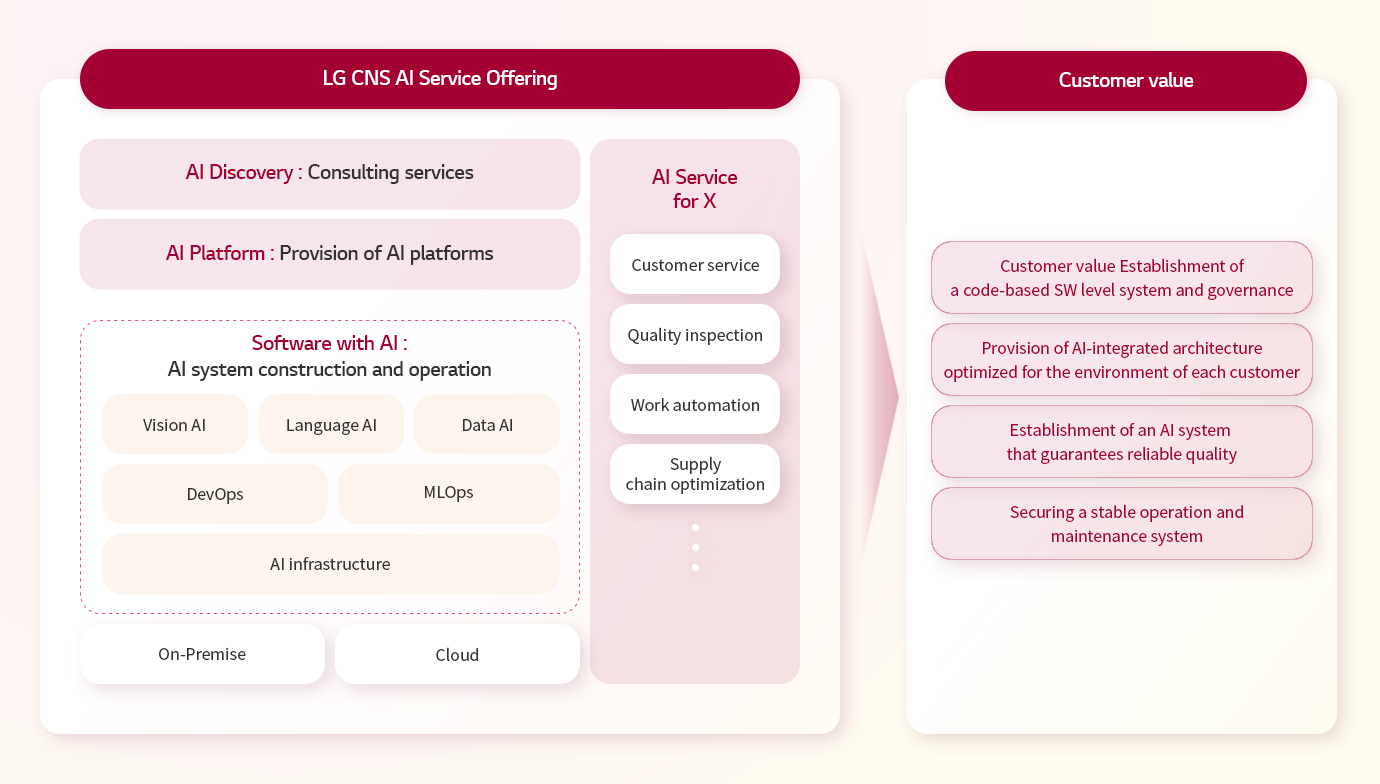 The AI/Big data technology of LG CNS is utilized in various business fields by customers.
LG CNS supports customers to lead in the AI-based industry by applying 'AI Service for X', which has been proven in various business cases.
The scope of services of 'X' has been expanded through consistent business success.
Also, we support discovering business opportunities and establishing strategies for customers through the AI Discovery consulting program.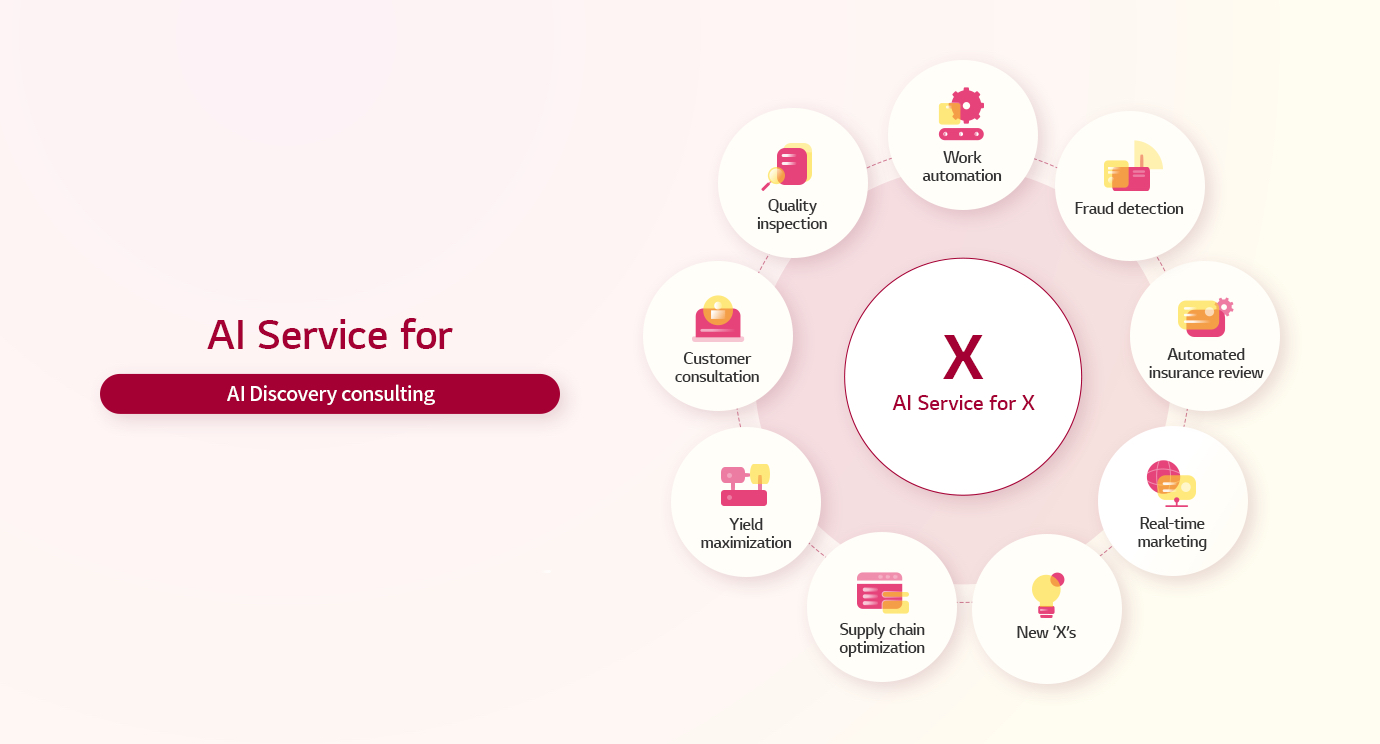 Customer Service
Consulting service that understands customers and provides professional answers anytime, anywhere
Quality Inspection
AI inspection service to measure product quality and detect defects in the manufacturing process
Work Automation
Automation of repetitive tasks within the company using S/W robots and AI
Fraud Detection
Detection of fraud and malpractices through the analysis of human behavior data
Automated Insurance Review
Automation of approval/deferment for insurance underwriting/claim review based on AI
Real-time Marketing
Product recommendations and optimal offerings in real time, and analyzing profitability of marketing events
Supply Chain Optimization
AI-based improvement in supply chain efficiency and performance
Yield Maximization
Reduced period of expansion for manufacturing facilities; prompt recovery measures in case of repeated errors; etc.
Yield: Ratio of good products. The opposite of the defect ratio
We implement the optimal AI system based on the SW engineering capabilities accumulated across various industries and large-scale businesses.
With 'Software 2.0' and 'Software with AI', LG CNS provides high quality services for the entire life cycle from architecture establishment to system development and maintenance. Customers can respond quickly to the business in the era of Software 2.0 and integrated establishment/operation of AI/Big data-based intelligent system with the prior systems is possible.
*Software 2.0: It is a concept named by Andrej Karphathy in 2017, where artificial neural networks such as deep learning autonomously develop software by using data.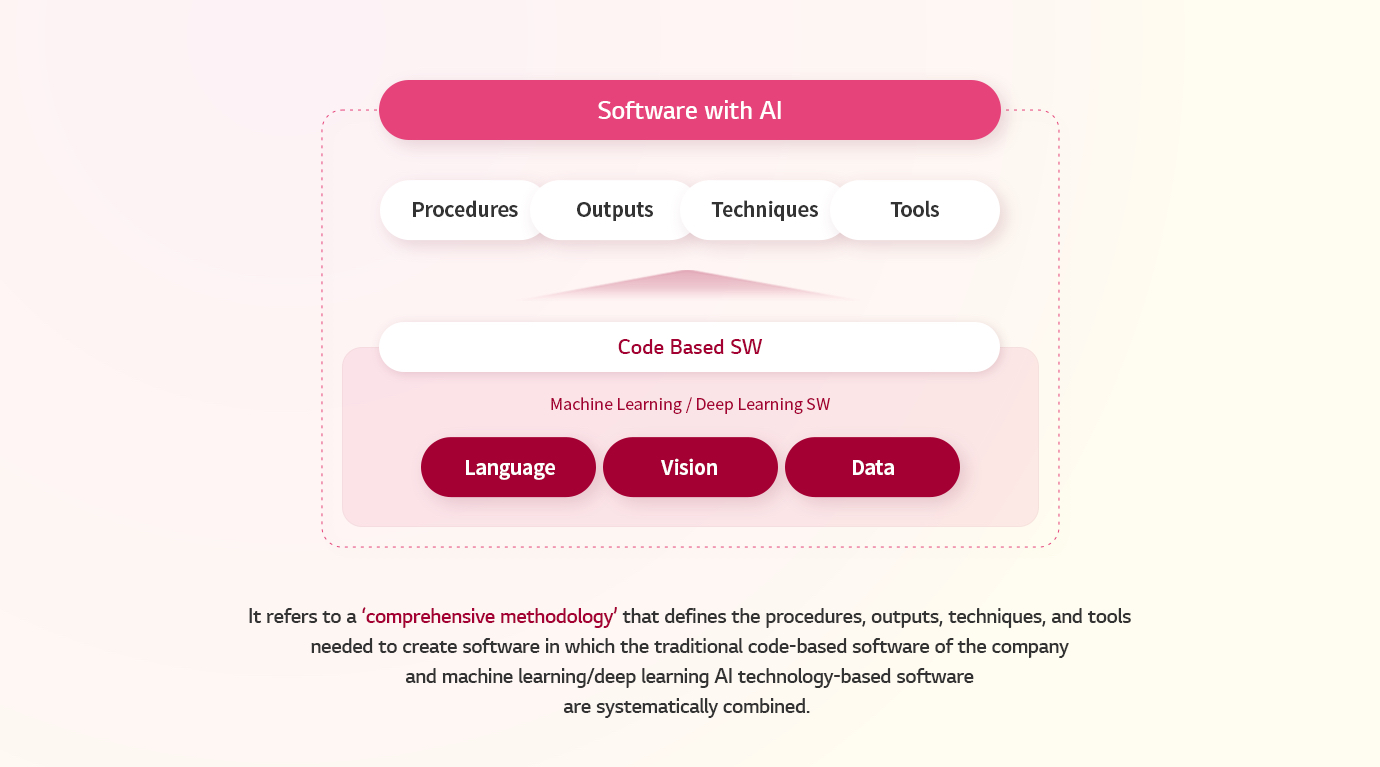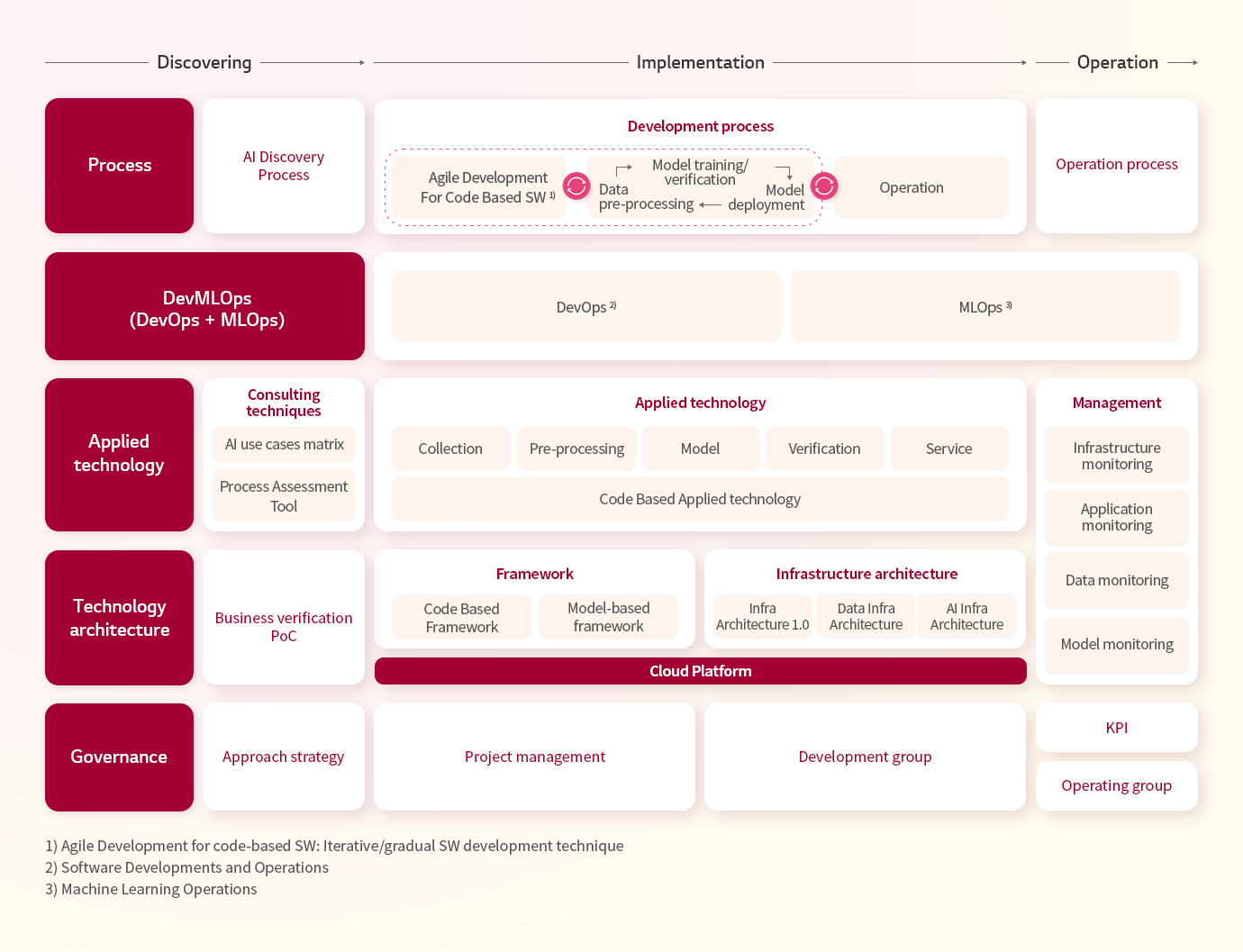 Access the LG CNS AI Service Portal for quick and easy implementation of AI services.
LG CNS AI Service Portal provides 10 AI services, consisting of three types of vision AI services, six types of language AI services, and one type of data AI service.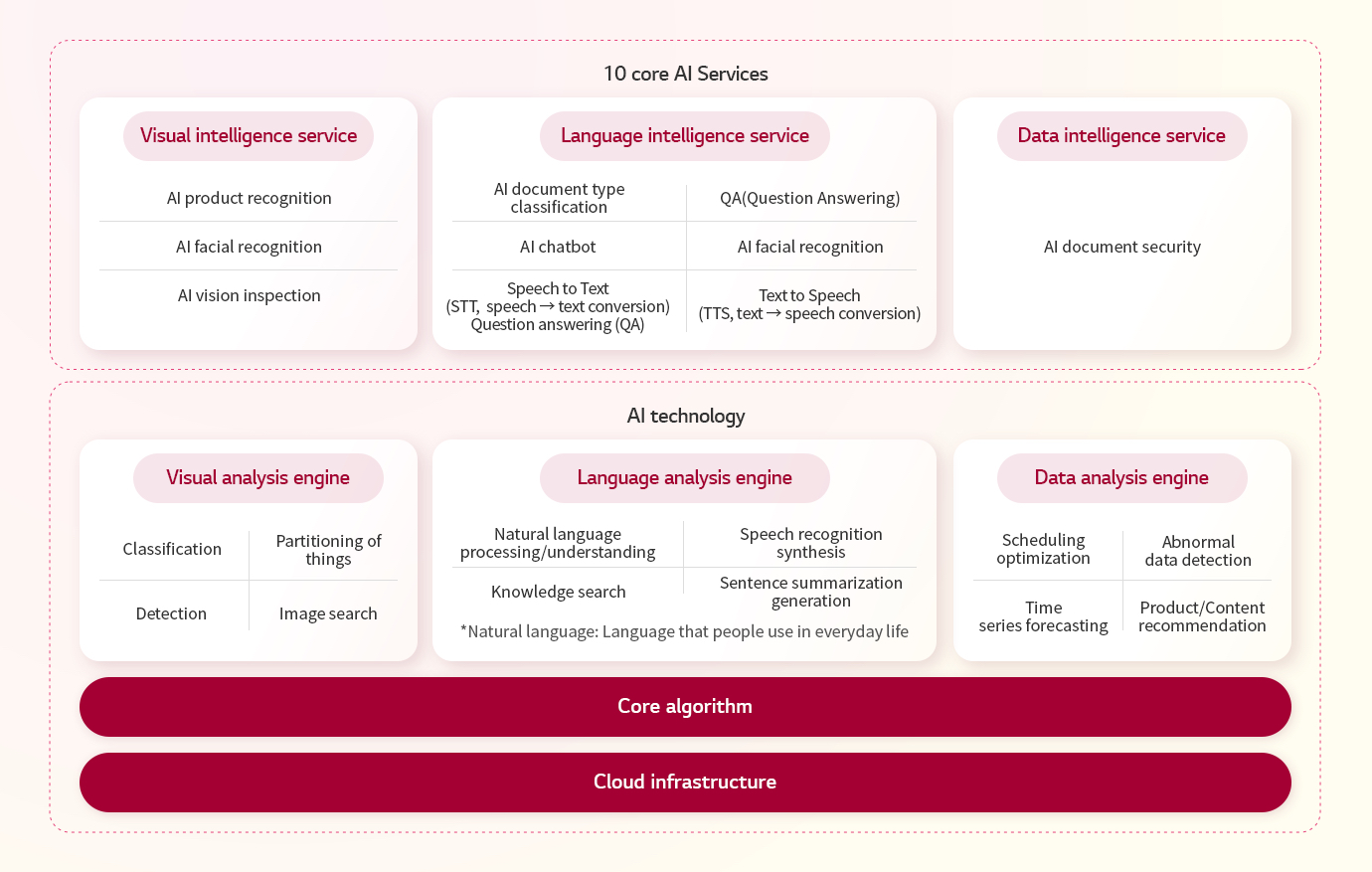 Key projects conducted by LG CNS
Seoul, Gyeonggi, Busan, and Jeonnam Offices of Education

LISA Mission English
and LISA Speaking Class
provided free of charge

KB Financial Group

Establishment of the Future Contact Center (FCC)

KB Kookmin Bank

Establishment of the chatbot system

Incheon International Airport Corporation

Establishment of the AI-based automated X-Ray image reading system

National Tax Service

Establishment of big data analysis system
for the National Tax Service

LG Display

Application of DAP Vision

LG Chem

Application of DAP Vision

LG U+

Establishment of the customer service bot
Contact the DX expert
of LG CNS directly.
Contact us