LG CNS collects scattered customer data, identifies and manages them at a glance, and provides a personalized data-based
MyData service.
LG CNS is an IT company that has obtained the MyData business license. We are developing MyData business capabilities, developing platform and service and pursuing partnerships between companies.
---
Haruzogak
LG CNS Haruzogak is a service that automatically records and manages various daily information such as location, schedule, and social media data by linking the information at the first time. Also, it helps financial information-based asset management.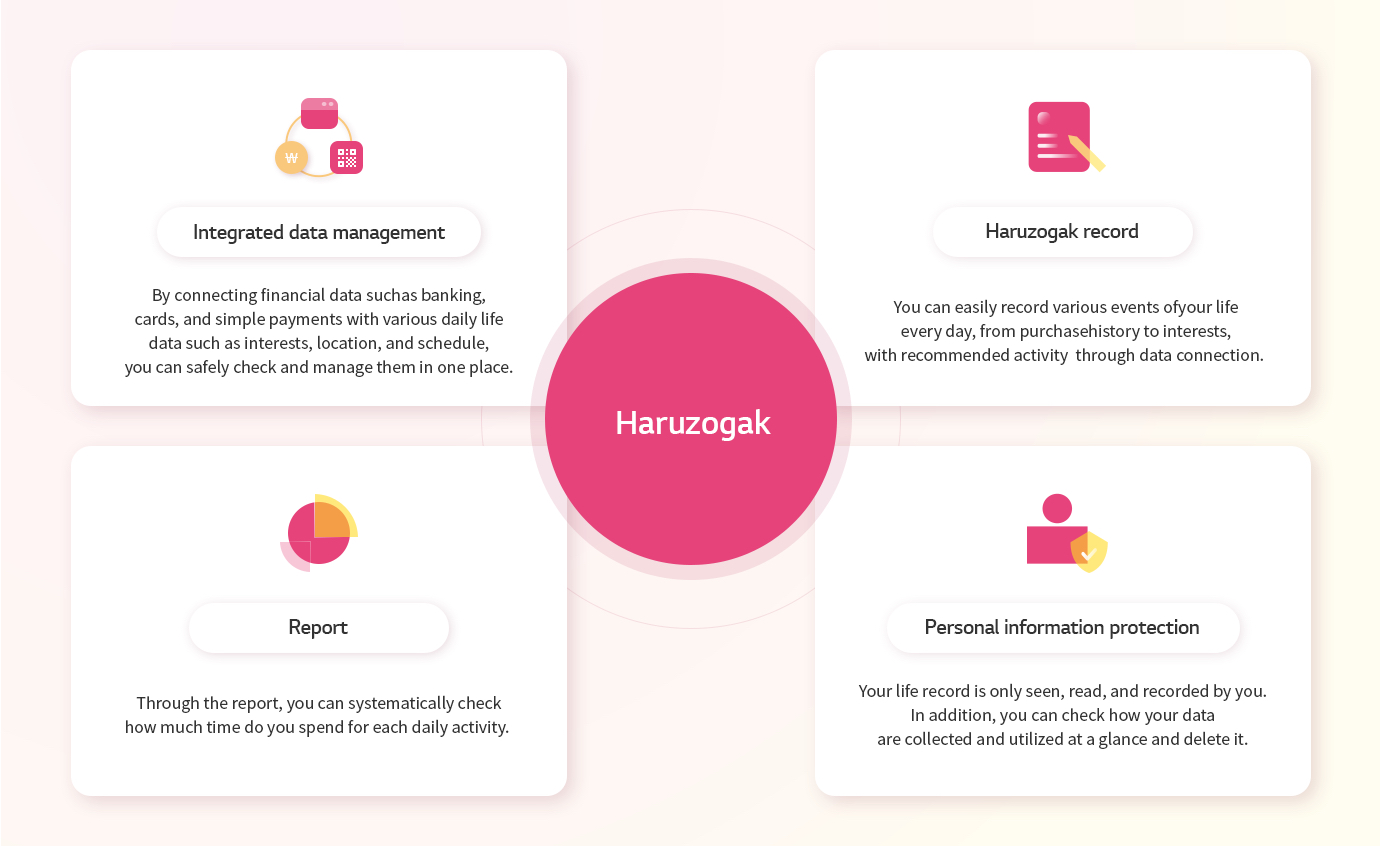 Haruzogak,
the easiest way to record daily life.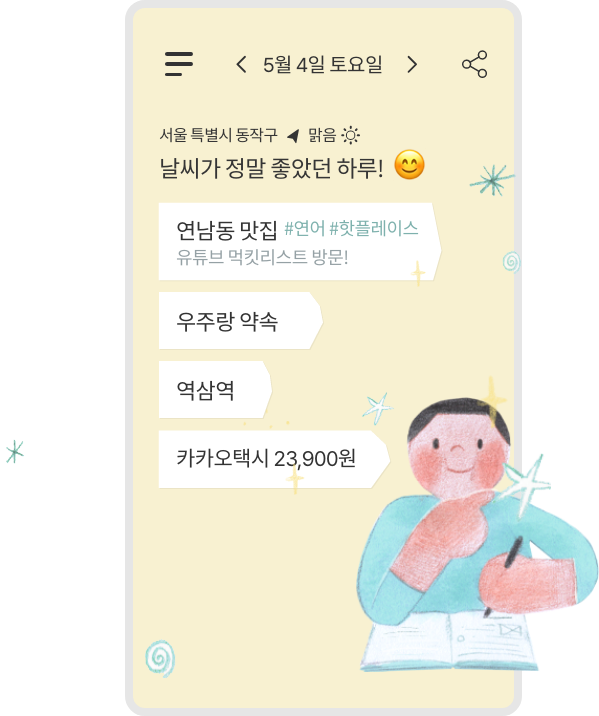 Start now
Would you like to learn more about Haruzogak?
---
Personal finance management affiliate service
Personal finance management affiliate service is provided to affiliates without a MyData business license allowing them to provide MyData services such as personal finance management to individual customers. Affiliates can provide services quickly without having to build infrastructure or modify service apps.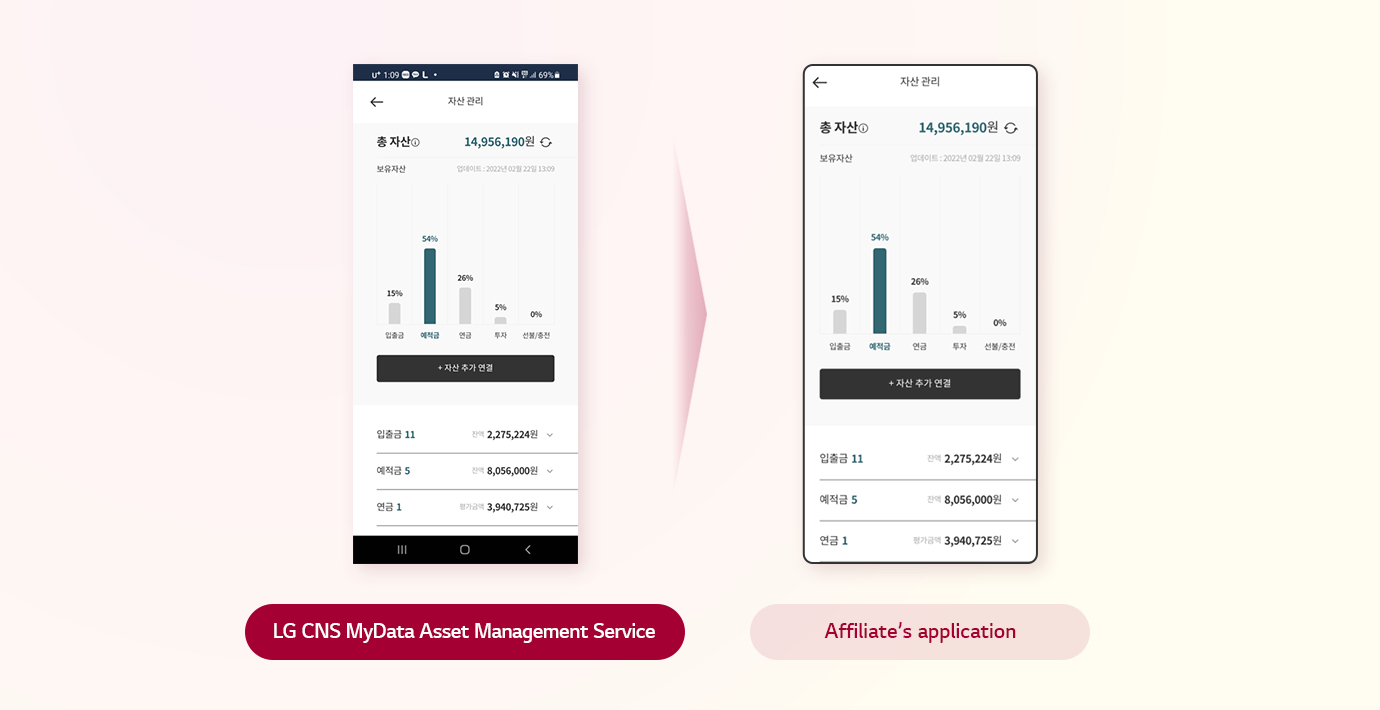 The strengths of the personal finance management affiliate service
Initiate integrated asset management service quickly with minimal investment
– Integrated asset management is the basis and core of the MyData service. Customers of affiliates can search and manage assets scattered across banks, credit cards, simple online payment, securities, and insurance industries.
– Services can be immediately launched for customers without MyData operator license or system investment. Utilize open APIs provided by external channels and technology (Scraper) that collects websites and information in specific fields.
Building specialized services to meet the needs of affiliates
– We can build a customized service for our partners based on our service building experience and DX expertise as the leading operator in building financial MyData platform.
– We offer a variety of affiliate services according to the business of affiliates. For example, robot advisors and healthcare services that use My Data can be implemented.
Supporting the use of customer data for better understanding for customers
– We support our affiliates to not only serve their customers, but also help them directly utilize accumulated customer data.
– We connect affiliates to customers and get approval from the customers to use credit information, analyzed data, and other customer data.
---
Open platform
LG CNS MyData service aims to be an open platform that is open to all companies.
Affiliates from various industries are already participating in the development of various hyper-personalized services for customers through mutual exchange of members, data, and services.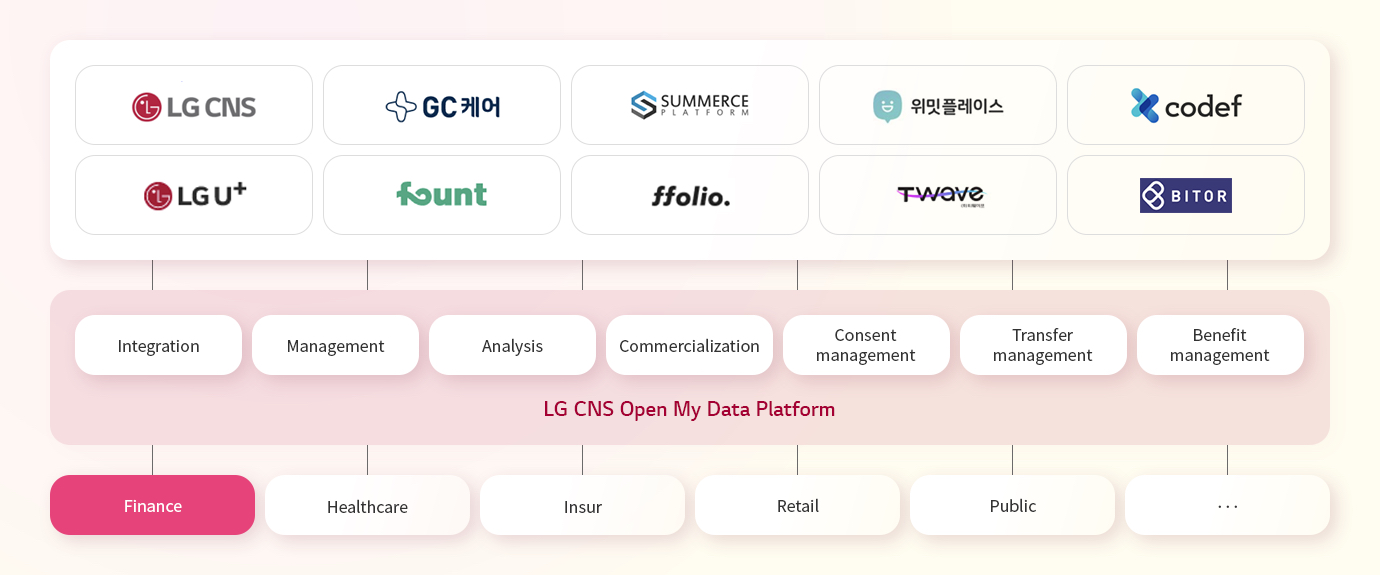 The characteristics of the open platform
LG CNS supports cooperation among affiliates participating in the open platform and pursues mutual growth. As a result, we are providing more diverse and valuable services to customers.
Affiliates can better understand their customers based on MyData and develop new services quickly and easily by using data and other companies' services. New customers can also be discovered within the platform.
The open platform grows together as the number of affiliates and customers grows, creating a virtuous cycle that provides more value to partners and customers.
---
Platform SaaS
As a MyData service provider, LG CNS provides platform SaaS services to customers who need an exclusive platform
to minimize initial investment and secure systems more quickly.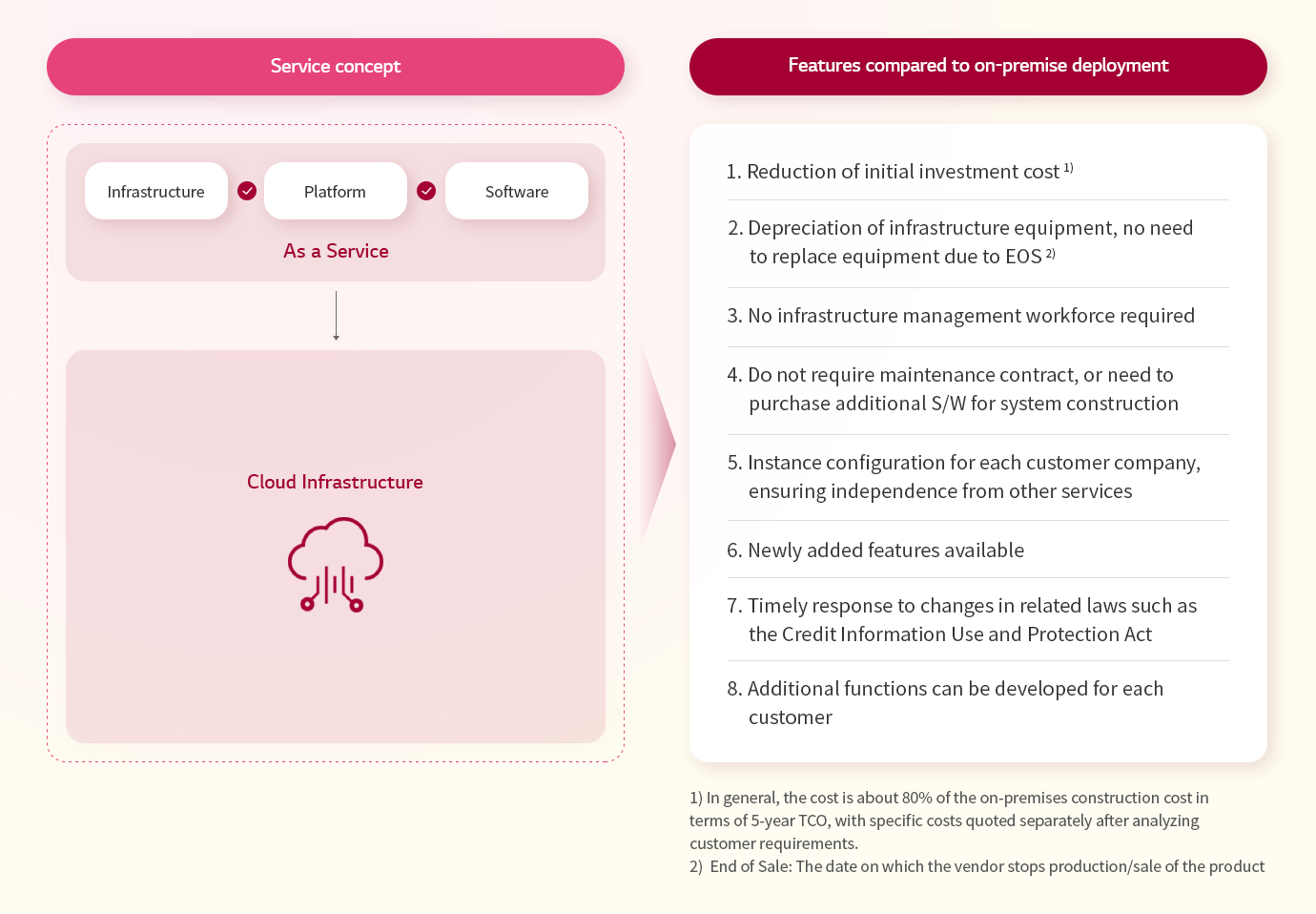 Learn the concpet of the MyData platfrom and establishment of
on-premises on the Finance in DX page.
Contact directly to LG CNS
MyData service team
Contact us