LG CNS is building an optimal big data analysis environment for customers
and contributing to customer business through new AI-based services.
DAP MLDL
DAP Machine Learning · Deep Learning (MLDL) is a platform that builds AI models and analyzes big data. For quick and easy development of AI/Big data models for customers, it supports all areas including big data collection, analysis, AI learning, model creation, model deployment, and integrated operation and management.
The area where DAP MLDL can be applied
Explore the core features of DAP MLDL.

---
DAP Vision
DAP Vision is a deep learning vision inspection service for defect detection in factory production lines. Automated vision inspection is performed throughout all stages of production, from warehousing of raw materials to final assembly. Defects are detected with high accuracy, improving productivity.
The seamless process of [Defective image collection – Training – Model creation – Distribution] and
continuous performance management through re-learning is possible.
The core features of DAP Vision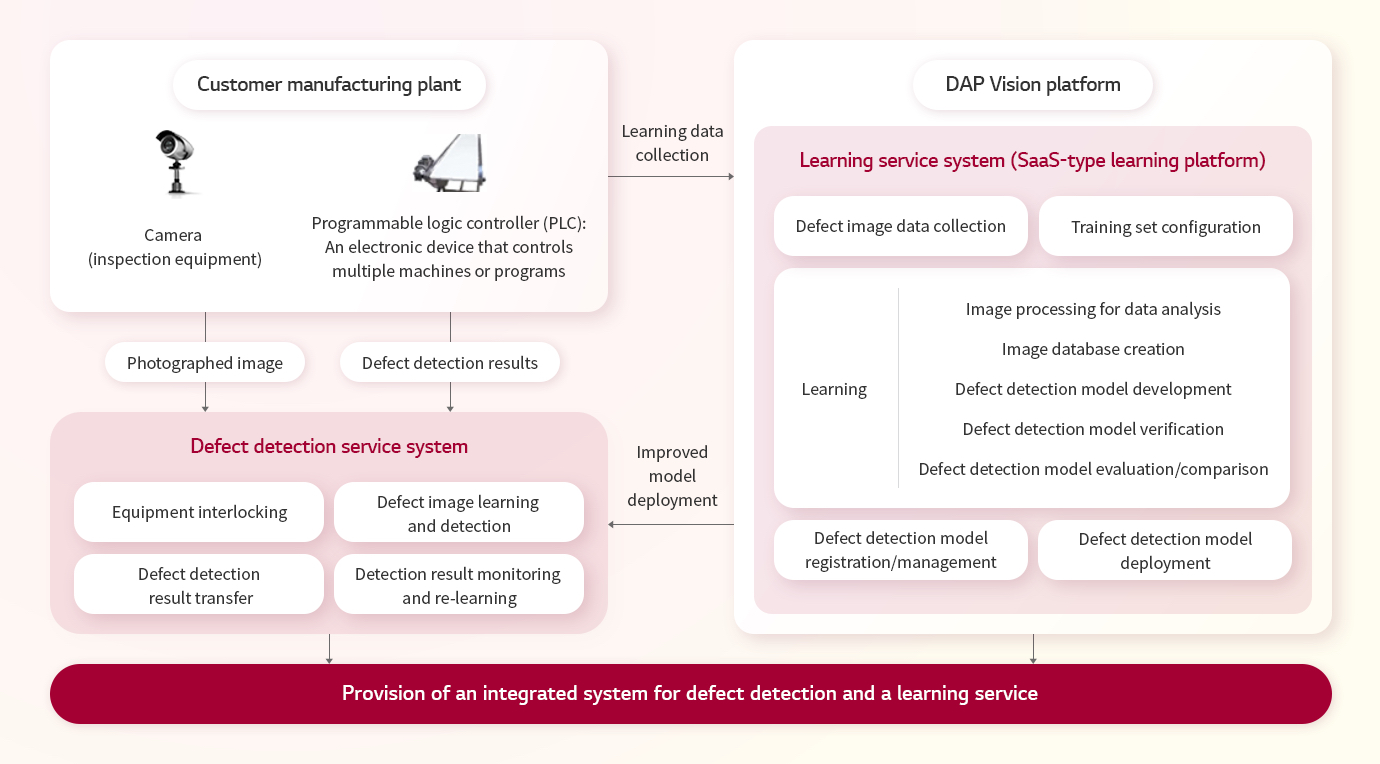 Establishment of vision inspection environment integrated with Google 'AutoML'
DAP Vision has integrated the Google AutoML technology. AutoML is a technology where even the process of learning various datasets and creating an AI model is automated through AI. AutoML is easy to use, even for non-professionals, enabling the creation of AI-based defect detection models with even just a small number of images.
Automated AI learning and selection of a model optmized for a specific customer
DAP Vision service is provided through a high-performance graphic processing unit (GPU)-based cloud environment. It can automatically collect images and result data from the factory, and automatically distribute image sets. The simple training function enables the multiple learning process to be easily handled with a single request. The optimal model for various production lines can be selected by comparing AI models using customer manufacturing process management indicators.
Integrated management of various defect inspection models
DAP Vision can manage AI models used in numerous production lines at once. The detection performance can be checked based on the statistics of defect detection results, as well as various other information summarized in the dashboard.
---
DAP TALK
DAP TALK is a service that allows anyone to easily and quickly create their own chatbot. It consists of understanding of natural language, speech and text recognition, and conversation flow engines,
as well as operation management tools. A customized AI chatbot can be constructed in a short period of time through a Software-as-a-Service (SaaS) type platform, without building an initial infrastructure.
The core features of DAP TALK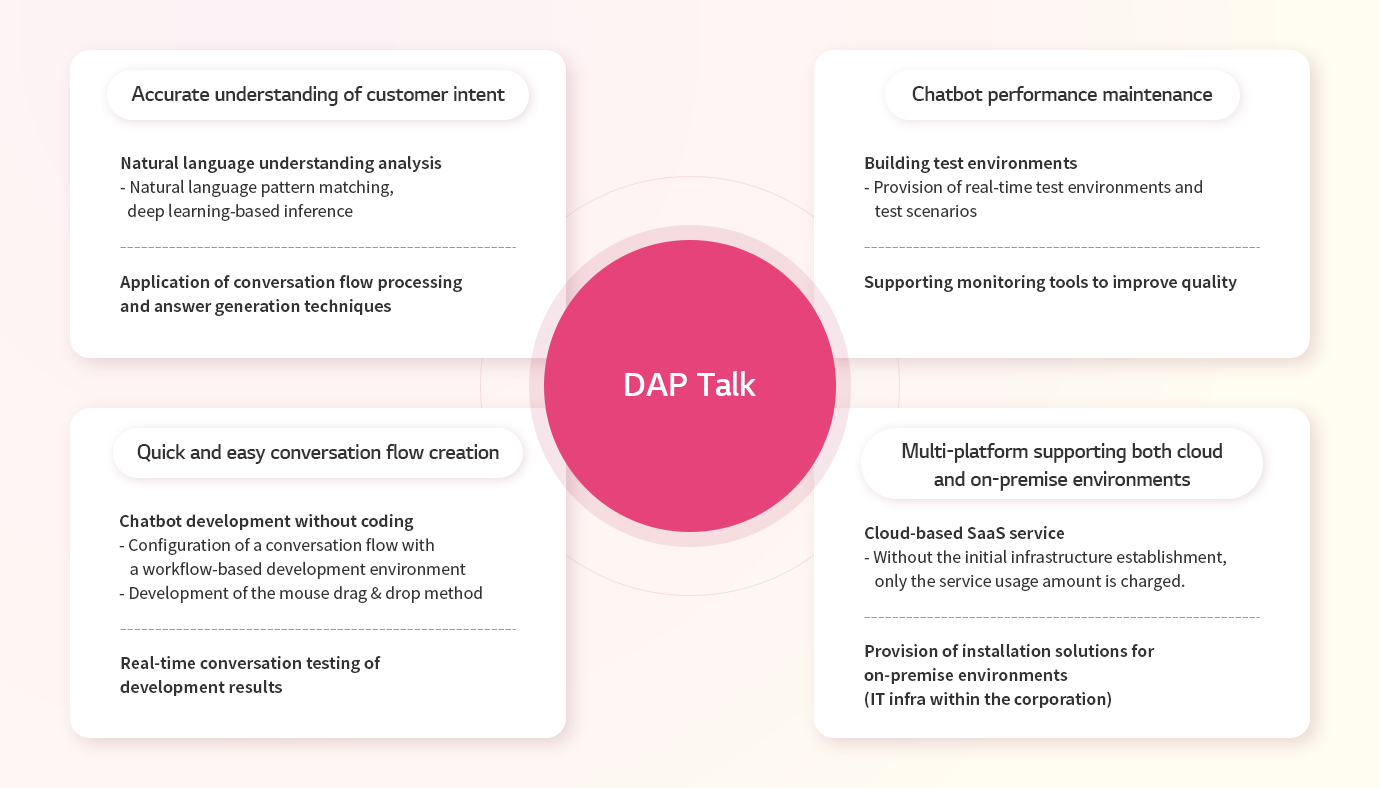 The principles and applications of DAP TALK
---
Smart SMA
Smart Social Media Analytics (SMA) is an analysis platform service that utilizes big data in social media. By analyzing big data in social media, such as consumer reviews and interests, insights about markets, companies, products, and services are provided to solve business issues for customers. A variety of services that customers need are provided. We offer cross-analysis between competitors and products, correlation analysis, and AI predictive analysis by utilizing advanced analysis techniques such as unstructured text analysis.
The core features of Smart SMA
Data Collection
– Collecting the original text of the post, comments, etc. from various channels including the press, blogs, communities, social media, and e-mail
– Utilizing open API provided by external channels and technology (Scraper) that collects websites and information in specific fields
*Open API (application programming interface) : A program that allows service providers to develop new services and applications by disclosing their data platform
Data Analysis
– Identifying meaningful market trends through analysis of data with positive/negative comments
– Analyzing the context to understand the process of customers choosing products and services
– Data analysis results can be saved, and analysis results can be searched through the index.
Visualization dashboard
LG CNS utilizes various solutions
related to big data collection, storage, and analysis for Smart SMA business.
Smart SMA can be used in various fields
including R&D, sales, public relations, and marketing.
R&D

Analyzing customer lifestyles
Discovering planning ideas related to new products and services
Exploring how the existing products and services can be improved

Sales

Deriving customer response strategies and sales guidelines
Supporting key customers in establishing targeting strategies
Sales process improvement through Voice of Customer (VoC) analysis
* VoC: Voice Of Customer

Promotion

Reputation monitoring for companies, products/services, and people
Continuously providing post monitoring and notification functions

Marketing

Measuring the performance of new products, advertisements, and campaigns and establishing the message and channel strategies
Evaluating corporate brands through recognition and image analysis
Contact the DX expert
of LG CNS directly.
Contact us