LENA
LENA is a high-efficiency next-generation web application server (WAS) optimized for cloud environments.
It is designed specifically for large-scale consecutive business processing,
capable of effectively responding to server failures.
Do you want to save costs?
LENA is an effective cost-saving solution as it minimizes resource consumption and employs a pay-as-you-go subscription billing method.
Are you worried about being tied to a specific vendor?
Most commercial Web Application Servers use proprietary standards, making it difficult for users to easily switch to other products. LENA is highly scalable as it complies with industry standards, freeing users from specific vendors.
Do you want to avoid real-time interruptions?
LENA is capable of real-time automatic failure response and provides a stable system with an operator error prevention function.
Do you want to respond quickly to changes in the business environment?
LENA is an architecture optimized for cloud-based services, enabling flexible and convenient expansion.
LENA allows you to respond quickly to changes in the IT environment by providing cloud optimization, failure response, high efficiency, and operation-oriented characteristics.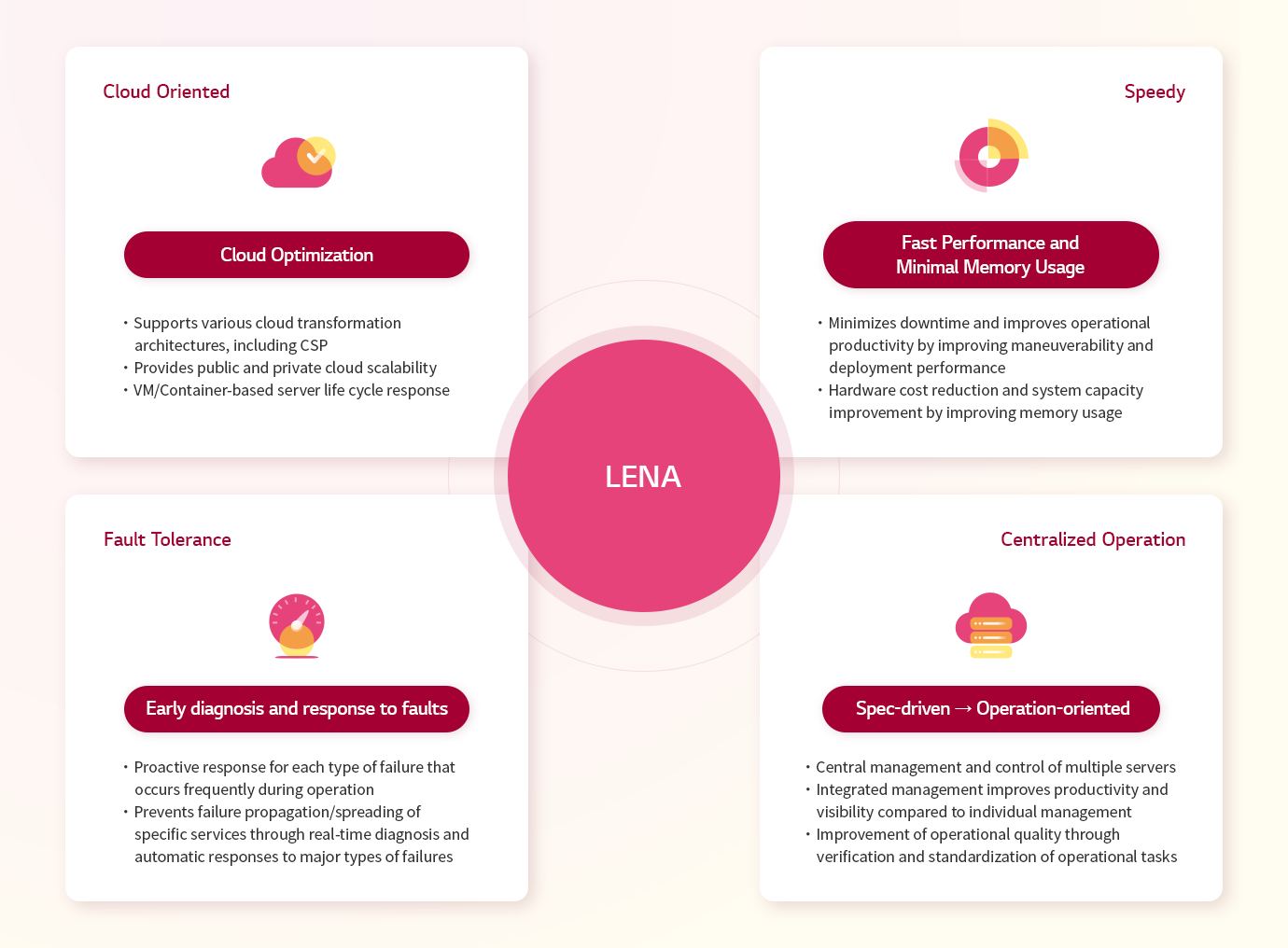 Key projects conducted by LG CNS
Meritz Fire & Marine

Selected as standard WAS
Introduced into the entire financial business system The newly adopted non-disruptive service operations
led to improved operational quality, productivity, and cost reduction.

Korea Minting and Security Printing Corporation

Local gift voucher platform

GS Retail

Applied to over 20 systems in general distribution business such as sales, delivery, and marketing

Pantos

Applied to 10 domestic and foreign systems

T-money

Applies to 4 systems such as T-money Mobile, Express Bus Mobile, KOBUS, etc.

LG U+

Applied to over 20 systems such as business management, settlement system, etc.

LG Electronics

Applied to over 150 systems at home and abroad such as customer service, rental service management, etc.

LG Chem

Selected as standard WAS
Applied to domestic and foreign systems such as overseas corporations, integrated legal support, etc.
---
TunA
TunA is an application performance management (APM) solution that provides integrated monitoring of various IT components such as applications and database management systems (DBMSs).
*TunA(Tuning Assistant) * APM: Application Peformance Management
Do you need monitoring from the customer's perspective?
TunA monitors applications from an end-user perspective.
It maximizes application efficiency by eliminating actual user discomfort and optimizing performance.
Do you want to manage application performance?
TunA provides data for detailed tracking in case of a delay in response.
It optimizes resource utilization by quickly identifying the cause of failure.
Do you want to get statistical data?
TunA analyzes various problems in your web application server (WAS) and provides statistical data on its performance.
Do you also need to monitor your infrastructure?
TunA provides an integrated monitoring environment for virtualization, systems, middleware, and databases
in open source software and legacy areas.
Check out the benefits of TunA.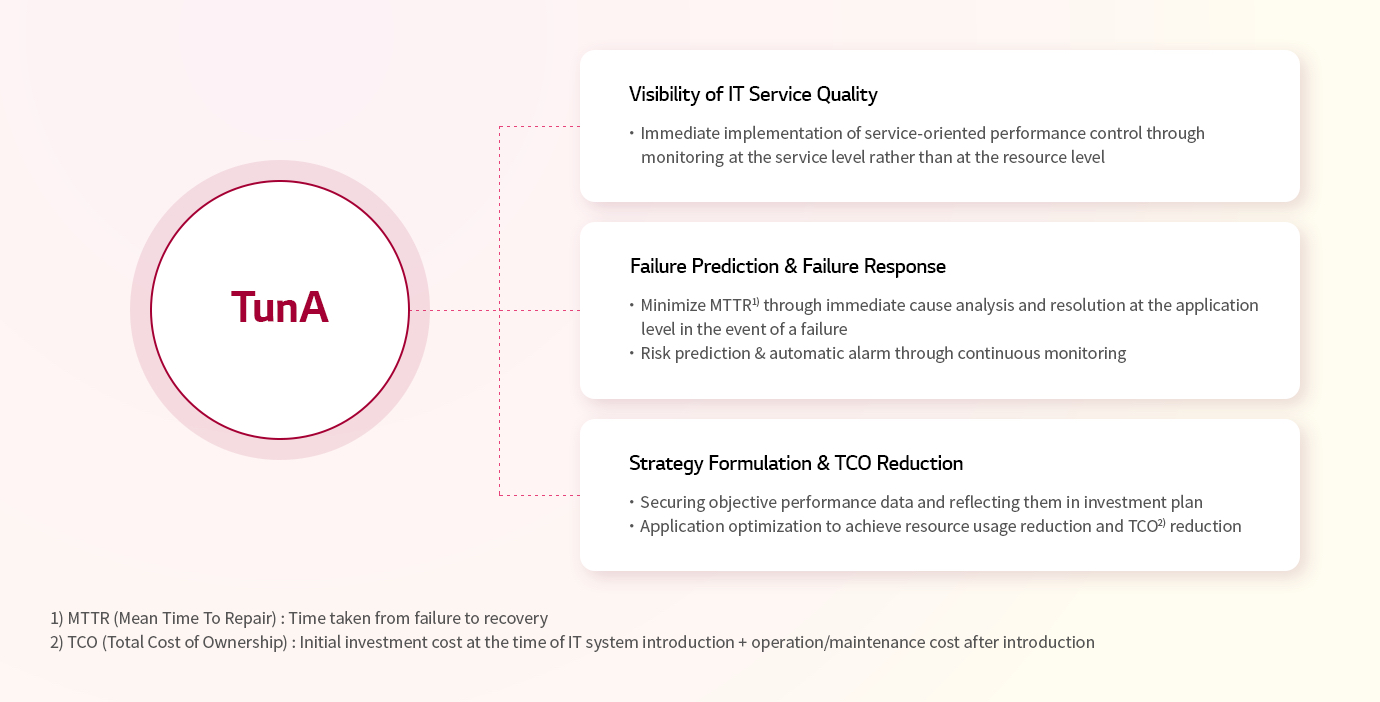 Key projects conducted by LG CNS
Korea Smart Card

Adoption of TunA

Daelim Industrial

Adoption of TunA

LG Display

Adoption of TunA

LG Electronics

Adoption of TunA
---
UXM
UXM is a diagnostic solution that monitors and manages the service quality of all areas of the IT system.
It instantly identifies service anomalies from the customer's point of view and quantitatively measures service quality.
*UXM(User eXperience Management)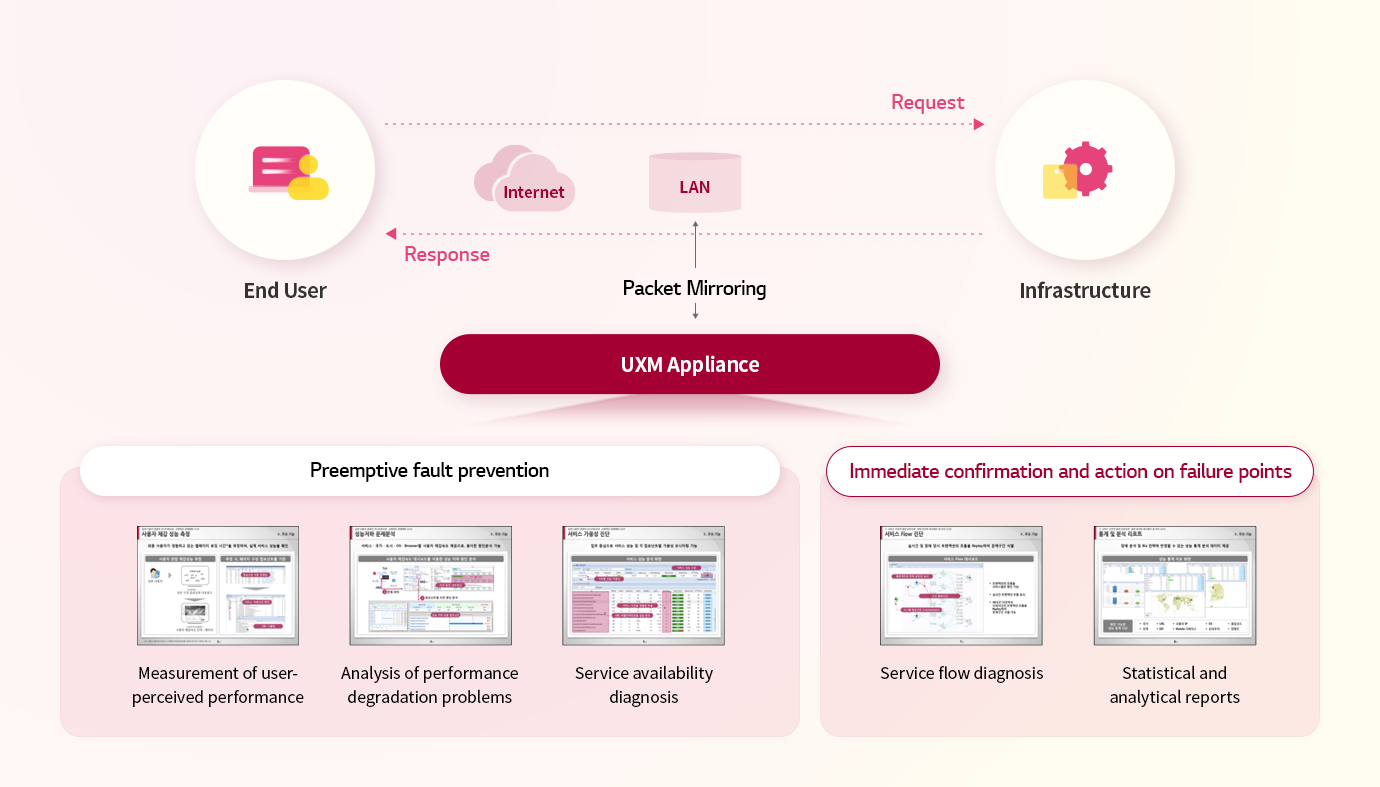 Check out the benefits of UXM.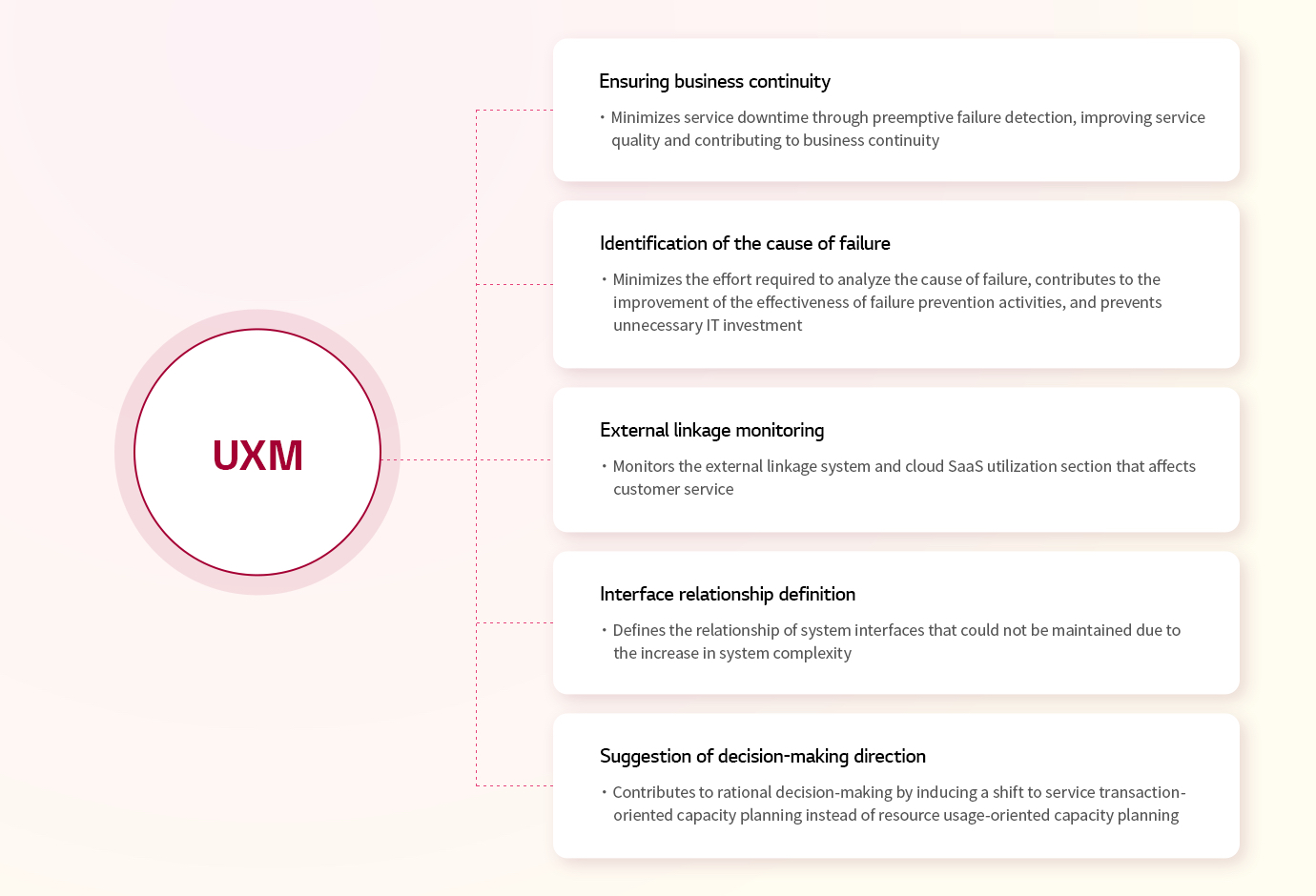 Key projects conducted by LG CNS
KB Kookmin Card

Next-generation system construction project

Korean Air

Website cloud migration and monitoring
Data center outsourcing

GS Home Shopping

Infrastructure operation service

GS Retail

System operation service

Summerce Platform

Infrastructure operation service

LG Display

Establishment of video conferencing system quality monitoring
System operation service

LG U+

Cloud entry system monitoring
---
J-Jobs
J-Jobs is a workload automation solution that schedules and automates business processes in real time.
Real-time integrated monitoring/control
You can check job status, statistical data, etc., at a glance through the dashboard.

Support for scheduling various types of work
J-Jobs supports real-time scheduling service by month, day, and section based on events.
Avoiding overload by distributing concurrent tasks
J-Jobs monitors the working status in real time and prevents overload.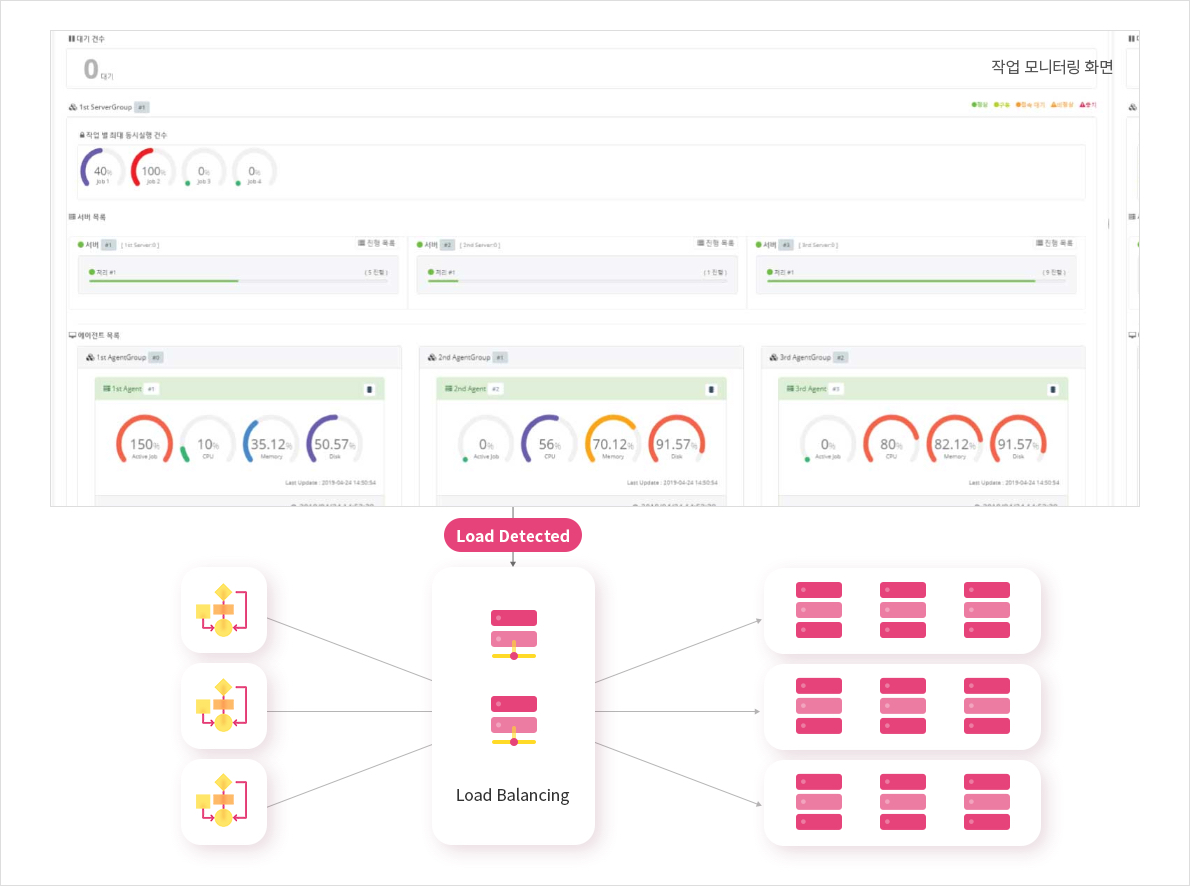 Various templates provided
J-Jobs provides various templates for each type. With the use of web-based plug-ins, the templates can be expanded easily.

Cloud-based auto scaling
When the server becomes overloaded and can no longer process the job, additional servers are automatically deployed to handle the job safely.
Contact the DX expert
of LG CNS directly.
Contact us