LG CNS is leading the future of smart logistics industry
through logistics automation.
LG CNS aims to become a total logistics solution provider that can support consulting, design, simulation,
center/system construction, and operation.
With experts who have implmented more than 300 logistics center projects,
LG CNS can build the most suitable logistics center for each client.

Increase customer satisfaction for delivery service with
a micro fulfillment center (MFC).
Online shopping are increasing significantly due to the trend of contactless interactions in daily life. MFC is gaining attention due to its capability for quick delivery.
LG CNS's optimization algorithm increases the efficiency of MFC by analyzing the best product movement sequence with the shortest time to process customer orders.
LG CNS plans to introduce MFC that can predict product demand by region using AI big data technology.
The LG CNS smart logistics platform is speeding up
the intelligence of warehouses.
LG CNS is transforming hard warehouse with automation facility into digital warehouse/data warehouse through a smart warehouse platform that applies optimization algorithms, digital twins, IoT, AI, and other new IT.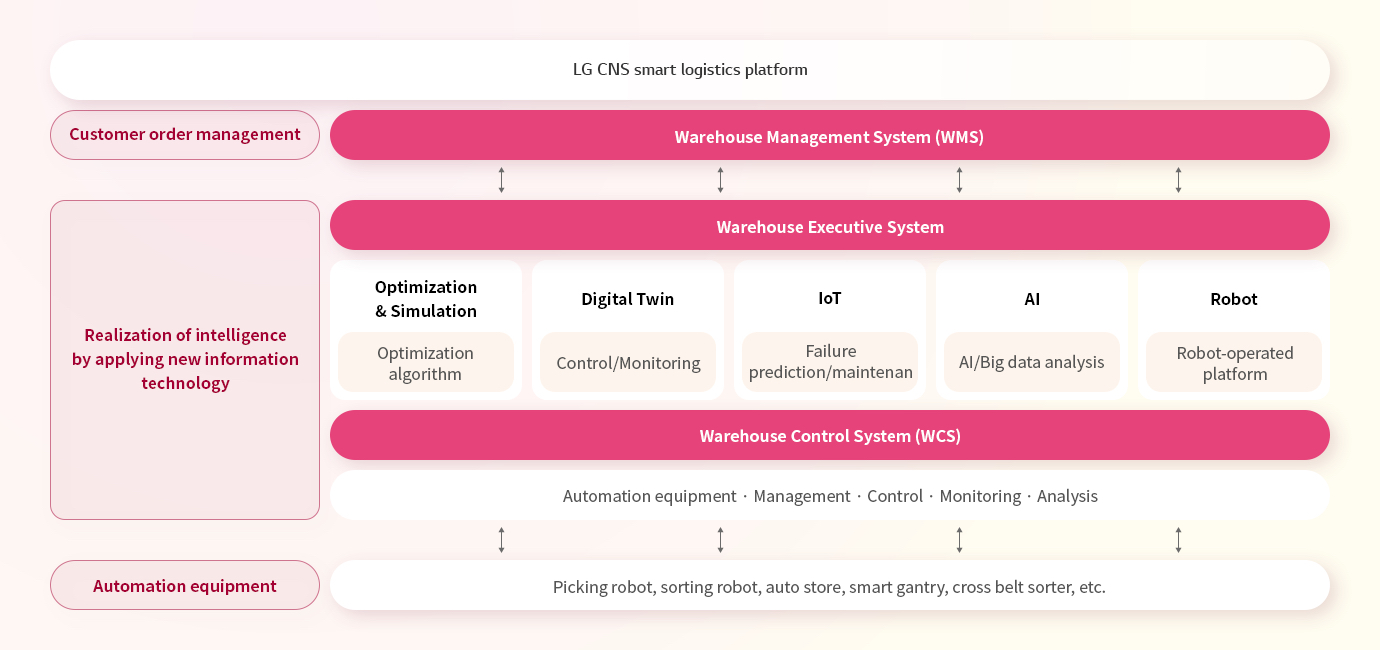 Key projects conducted by LG CNS
CJ Logistics

POS Malaysia

Market Kurly

LG Chem

LG Household & Health Care

Lotte Global Logistics

Hanjin

Korean Air

Yuhan

Handok

Lotte Mart

Lotte Super

GS Retail

eBay Korea

Hansol Logistics

LX Pantos

GS Home Shopping

E-Land

KT&G

Cargill

Home & Shopping

Daiso

OURHOME

Korea Post

Coupang

Serveone

Doosan

Hyundai Glovis

Olive Young

HanExpress
Contact the DX expert
of LG CNS directly.
Contact us